Pincode - 751028 is not Serviceable Temporarily
2hrs Instant Delivery has been withdrawn. Shipping charges will be applicable for all orders.
Delivery may get delayed due to sudden surge of orders. Please do check your serviceable area pincode in the shipping section below the shopping cart.
---
Your basket is currently empty.
---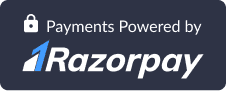 ---
Please recheck for the items you want to book to avoid returns later.
Once order is processed, delivery person will be assigned.
The contact number of delivery person is available when you view the order details.
In case of delays or any queries, you can directly call the delivery person from your order section in dashboard.

Please note: 
Our Standard delivery timing is from morning 9AM to 8PM
If you have any queries, kindly talk/whatsapp to our executive at +91-76060 00674